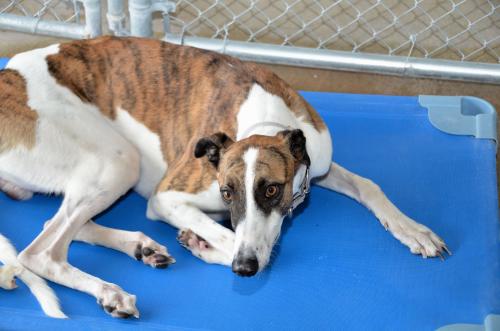 Click here for contact information
Julius was born on October 4th, 2011, he is a white brindle greyhound. Although never raced, he has racing registration tattoos in each ear.
Current Medications:
Trifexis (spinosad + milbemycin oxime) (1620 mg spinosad/27 mg milbecymin oxime)
Carprofin (OSTIFEN) 150mg
Julius was registered and adopted from Greyhound Adoption Center; registration: G5905, (877) 478-8364, he is also chipped and registered with http://www.petlink.net, registration number: 981020007348567.
Rabies Vaccination:
last: 08/19/22
next: 08/19/25
tag: 4679543 (Pinellas Co., FL. 727-582-2600)
Current Veterinary Clinic: Animal Hospital of Dunedin 1355 Pinehurst Rd. Dunedin, FL 34698 (727) 733-9351